It hardly seems that a year has passed.  But today, I celebrated by going on Tweet.
Here's the Tweet:  Celebrate the anniversary of "Spirit Dog" Read a  review on  Amazon. Just recently I sold a few "Spirits" at a meet the author night at a local historical society. Sold a couple of books.  Each author was asked to bring an appetizer for the buffet table. So no profit here.  But enjoyable.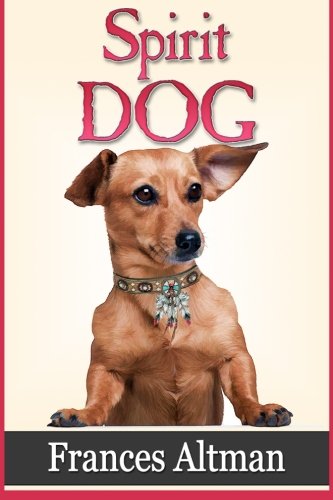 A Spirit Dog Travels  the Texas Road
"Spirit Dog" was the name the Indians called Adolphus a dachshund that traveled the Texas Road to  Oklahoma Territory with Jeffery Martin and his family  Adventure begins at Fort Gibson when they  explore a riverboat where they discover a captive Cherokee Indian boy named Hawk. The threesome head for freedom only to be captured by fierce Osage Indians. Unlike the Indians' wolf dogs, Adolphus is a strange new breed with a long,  low body, short legs and drooping ears that fascinates the Indians. He must be a spirit!  At the Osage village they are befriended by an Indian Princess called the Ancient One. An opportunity to escape comes at the annual salt boiling but now the boys hesitate leaving  an ailing Ancient One behind. As their plans to escape begin to evaporate she helps them find a solution and a way back home. Their adventure brings the boys and dog  closer together with their competitive spirits growing into admiration, and a new respect for living in America's expanding West. Set against a background of history and folklore.  Grades 3-5.
Learn a Dog's History
What do you know about a dog's history?  Originally some dogs were breed to hunt, others to work helping herd cattle or sheep. Most dogs originated in Europe or Asia. When selecting a dog as a pet, its  history should be considered.  For instance does it love to hunt? Or run? Originally many  dogs were hunters—burrowing after badgers or moles. Others such as a Norwegian Elkhound love to run and run and run chasing an elk or deer for miles without tiring.  The author of "Spirit Dog" grew up with dachshunds and later raised and showed Norwegian Elkhounds.
She often wondered what people who saw a dachshund for the very first time would think. Then when she moved to Oklahoma she began to think about how the Indians that lived there would think when they first saw a dachshund. A dog with such short legs, long nose and flopping ears was very different from the wolf-like dogs that lived in the Oklahoma Territory. It was understandable that they would think this was a Spirit!